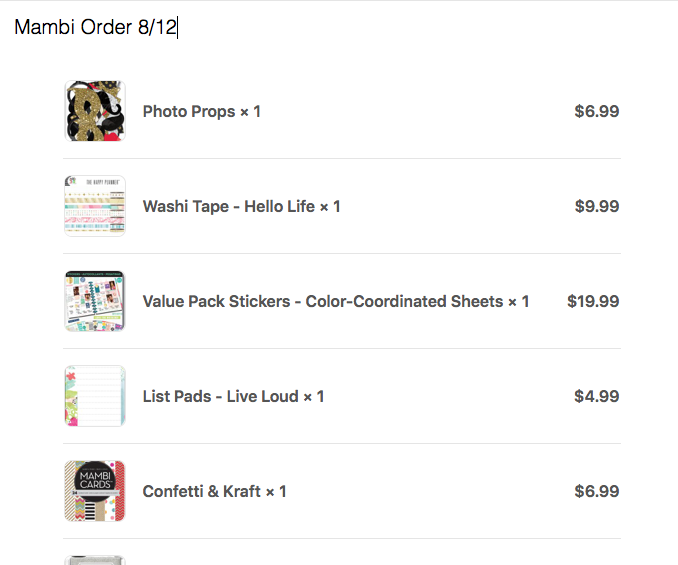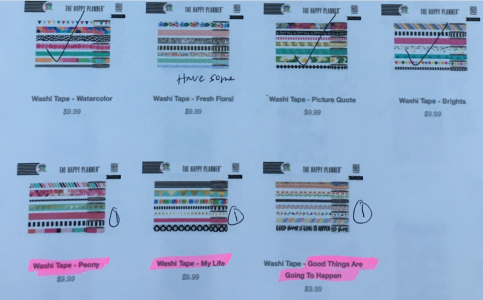 There are many ways to use Evernote (the best app of all time) to help with Planner Passion.  One way I help myself is to take photo of things in my planner.  Today, I am showing you part of an order I placed with Mambi on the left.  Since I have a bad habit of purchasing the same item again, I need to protect me from myself, LOL.  So, if I ordered this and then went to Michael's or Hobby Lobby, I don't want to forget that I already got the Happy Planner Live Loud list pad.
I have purchased the same washi twice, and also a pack of 365 stickers that were already in my sticker book.  Sad, huh?  I guess I really liked those things.
Washi is a particular problem for me, since I have a huge collection, but will forget which washi tapes I have, if I don't use them frequently.  Here is my hack: I printed out the Me and My Big Ideas washi pages to the size of my planner (we show you how to do this here). Then I annotated the pages with which tapes were on my #1 or #2 list to purchase.  I put a big checkmark through the ones I already own.  Last step.  Take a photo of my annotated pages and drag into Evernote.  Use tags to  be able to easily locate the note. Now when I am shopping somewhere, I can look on my phone to see if I already have it! Problem solved.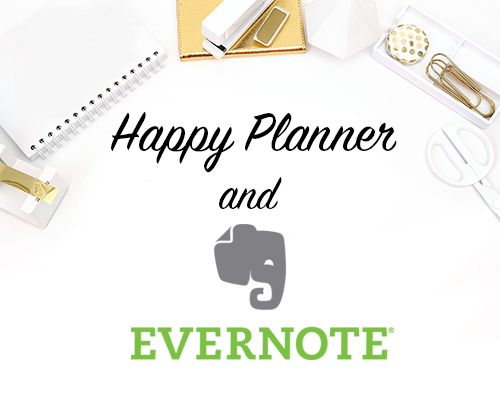 Save
Save
Save
Save
Save
Save
Save
Save
Save
Save